To provide high-level digital investigative and forensic techniques to aid individuals, organizations, and businesses in their quest for the truth.
To help you uncover the truth from the data.  

Our mobile forensic team will work hand-in-hand with you during the investigative process and provide you with a comprehensive understanding of your mobile device. By extracting and analyzing mobile data, our mobile forensic services can uncover key evidence that is crucial to building your successful case.
Vehicle Forensic Services
Our vehicle forensic team is skilled at uncovering evidence from automobiles and other vehicles. Through examining a vehicle's components, its history, or its digital data, our forensic experts are able to extract valuable information for use in insurance claims, criminal cases and legal proceedings.
Digital Forensic Services
Our computer forensic team specializes in investigative techniques to identify, collect, analyze and present digital evidence in a manner that can be used in a court of law or other legal proceedings. We can uncover hidden information stored on computers and other devices, such as cloud accounts, social media, removable media, tablets or even audio/video recorders.
Expert Consulting Services
Our expert consultants will take a deep dive into your case and provide an in-depth analysis to help you make better informed decisions.  Our experts can help you build your technical strategy through their specialized knowledge and experience, while guiding you to your next step.  Leverage our expertise to transform your next case.
Our eDiscovery services are an attorney's best friend when it comes to litigation. They can help save time and money by efficiently managing the eDiscovery process. With eDiscovery services, you can quickly search through data for court-admissible evidence and uncover hidden secrets that may be relevant to your case. So, if you're looking to make the eDiscovery process easier and more efficient, our eDiscovery services are the way to go! 
Tailored to your needs by our team of experts.
After an initial case review and client meeting, our experts will guide each client through the workflow process and determine which steps are appropriate for each specific case.  Though we encourage our clients to utilize all four steps, all steps may not be necessary as our experts will assess client goals and desired outcomes before initiating forensic services.  

Frequently Asked Questions
Learn more from our Experts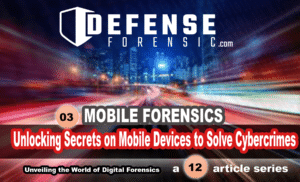 cybercrime
Have you ever wondered how detectives solve mysterious cybercrimes? One powerful tool they use is mobile forensics, which involves investigating smartphones and tablets to uncover
Read More »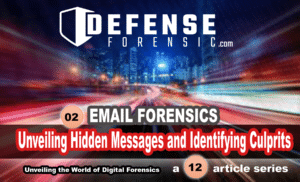 cybercrime
In the world of digital communication, email has become an essential tool for sending messages and sharing information. However, just like postal mail, email has
Read More »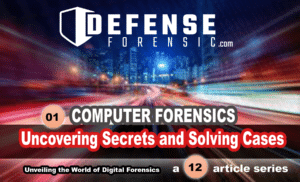 cybercrime
Computer forensics is performed by forensic experts who investigate digital devices like computers and laptops to uncover hidden evidence. These forensic experts use their skills
Read More »